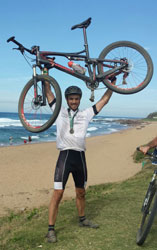 Henri Joubert, who was this the City Lodge Hotel Group's international business development manager until the end of March, raising his bike after completing the 2015 edition of the event.
Although the group sponsored many room night prizes for the event in 2014 and 2015, this year it is the official accommodation partner for the event and also a support partner.
Mountain biking has become a massively popular sport across South Africa and aligns ideally with the City Lodge Hotel Group's mother brand and its individual brands – Courtyard Hotel, City Lodge Hotel, Town Lodge and Road Lodge.
Other sports the group is closely involved with are golf – through its accommodation sponsorship of the Sunshine Tour – and road-running – through its sponsorship of the annual City Lodge RAC Tough One 32km race in Johannesburg.
This year the group is sponsoring 140 room nights as prizes for various category winners of the Joberg2C.
Over the past two years, the group has had its own competitors in the event – Ryan Ruthven (head of IT) and Henri Joubert (international business development manager) in 2014 and Henri Joubert again in 2015.
"Joberg2C has developed into an amazing event over the past few years with excellent organisation and logistics attracting riders from across the country and from other parts of the world," said Peter Schoeman, Divisional Director of Sales and Marketing at the City Lodger Hotel Group.
"We are very happy to be closely associated with the event this year and to be the accommodation partner as well as a support partner. We wish the organisers and the riders all the very best for this year's staging of this awesome challenge."